Introduction and Medical Disclaimer
Minimum Protein Intake is essential for every human body. The following section summarizes one of the most important concepts from a video I recently published. The video briefly describes the journey of discovery while recovering from my own health crises in 2019. I am not a doctor, dietician or nutritionist, and have no formal training or certificate of competency on this topic. This is based on my own experiences of recovery from severe health crisis. I did not do everything right, and learned a lot of things along the way. Consult your own medical professionals before attempting to implement any of the items I am about to share:
Minimum Protein Intake
*50-75 NET GRAMS: The average human body requires a minimum of 50 to 75 net grams of protein each and every day. Surprisingly, very few individuals are aware of this. Which is one of the reasons I am taking the time to share my story.
Resources:
https://www.health.harvard.edu/blog/how-much-protein-do-you-need-every-day-201506188096
https://www.nal.usda.gov/human-nutrition-and-food-safety/dri-calculator
Consequences of missing this minimum threshold:
The body will cannibalize protein from muscles and bones in order to maintain the health of mission-critical organ systems. (brain, heart, lung, GI Tract) [I actually experienced this first hand]
The consequences of #1 are devastating. The body tries to resolve this by increasing hunger until the protein target is met. As a result, the body tends to over consume fats and carbohydrates. This leads to additional increases in body fat. [In my case, my GI tract was blocked, preventing the hunger reflexes from rescuing me]
There is obviously more to it than this. My intention is to focus on the main concept. So I am speaking in general terms. Next, we'll take a look as two common scenarios and examine the potential solutions.
Let's take a look at two scenarios:
For those trying to gain weight, the protein target must be a priority. Those working to build muscle must account for two essential elements.

Adequate protein intake
Resistance training

For those trying to lose weight. Failure to meet the protein target will cause the body to loose muscle mass and bone mass. As a result, any weight you end up losing will be from bone and muscle and NOT fat. Loss of bone and muscle mass further complicates any attempts at reducing body fat. Because the muscles are responsible for burning calories (and maintaining a healthy metabolic balance). Therefore, lower muscle mass, means a lower metabolic rate which prevents the body from burning calories to reduce body fat. Summary: When restricting calories to reduce body fat, the protein portion of the diet must meet the minimum daily threshold.
For either of these two scenarios the solution is the same:
Prioritize the foods which achieve the minimum protein intake (consume them first each day)
Perform resistance training designed to build muscle (use it or lose it)
Regaining or Maintaining Strength and Vitality
The older we get, the faster our bodies loose bone and muscle mass. To mitigate this, we must consume adequate amounts of protein each a day and perform resistance training. If you are not building it, the body is tearing it down and using it to support mission-critical organ systems.
How to Reach the Minimum Protein Intake
I borrowed following table from a video I recently published. The goal of this table is to help folks understand exactly what it takes to reach the minimum protein target. I listed each item to include the qty and net protein for each portion. The entire list includes much more than the daily minimum protein target. Which allows you can pick from the list and consume a variety of items throughout the week. Check the qty of each and look at the final column labeled "Total". Then select a mixture of foods to reach a combined "Total" of at least 75 net grams.
Please note this table shows food items which include all nine essential amino acids. These are "Complete" proteins. Those choosing plant based sources must take great care to combine them in the correct proportions.. There are other consequences of choosing plant based protein sources which are beyond the scope of this article. Plant based diets require supplements to acquire specific vitamins and minerals which are lacking in plant based sources.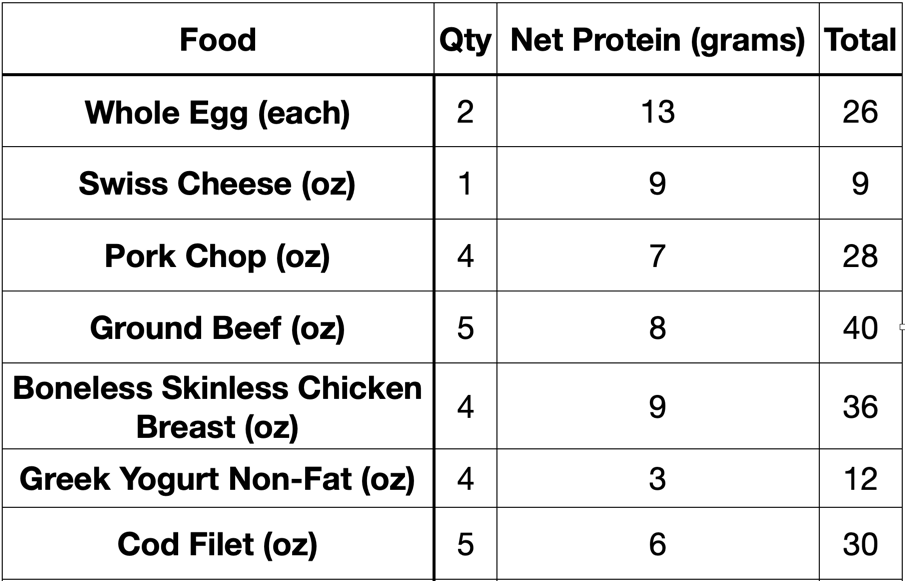 Data in the table was taken from a database located at the following website:
* this value will vary based on body weight and age. Higher body weight and age will increase the minimum protein target.
Summary:
Minimum Protein Intake is an essential element every human should understand. Your quality of life as you age is highly dependent on understanding this concept. Take the time to do your own research and make sure you understand how to maintain your strength and vitality as you age. Which will place you in a better state of health should you encounter a health crisis such as I did.
—
The following video is my story of recovery from a severe health crises:
Want to learn more about what I do to help others achieve their financial goals in the world to stock trading? Check the following resources located on this website:
https://www.hahn-tech.com/thinkorswim-forum-topics/
https://www.hahn-tech.com/thinkorswim-scans-beginner-to-advanced/