Welcome to the sales page for the Thinkorswim Volume Profile Premium Study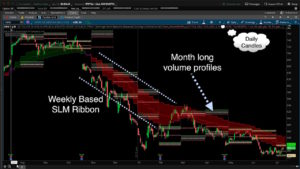 This is an upgraded version of the very popular Volume Profile study. This version includes a momentum study from a higher time frame that can be used to filter long and short signals. This indicator projects the volume profile area into the current trading period. Fully adjustable to fit whatever time frame you are trading. Trigger zones are included, which are fully adjustable. Setups occurring within the shaded trigger zones are accompanied by visual and audible alerts.
UPDATE: 7/13/16 Version Two Released
The current price of this indicator is $84.00 USD (more than a 70% discount off the $300 value)
Scroll down to access the order form.
How does this work?
You fill out the form, make your selections and press the submit button.
What happens next?
You will receive an automated email response confirmation containing the details of your order. Shortly after that you will receive an email from Pete Hahn letting you know your order is being processed. Very soon after this second email you will receive an invoice generated through PayPal. After the invoice from PayPal is paid, Pete Hahn will email the Study and Scan files to the email you provide below:
---
---
DISCLAIMER: I AM NOT A CERTIFIED FINANCIAL ADVISOR AND NOTHING IN THIS VIDEO OR TEXT IS AN ADVERTISEMENT OR RECOMMENDATION TO BUY OR SELL ANY FINANCIAL INSTRUMENT. NOR IS THIS VIDEO OR TEXT INTENDED TO INSTRUCT YOU ON HOW TO MAKE BUY OR SELL DECISIONS USING ANY OF THESE INDICATORS.
*Thinkorswim is a chart analysis platform offered by TD Ameritrade: www.tdameritrade.com
TD Ameritrade provides financial services including the trading of Stocks, Futures, Options and Forex.
Please be sure to share this page with your friends and colleagues. Leaving comments below is the best way to help make the content of this site even better.