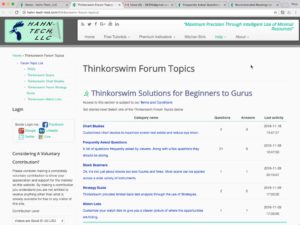 How to get the most from this site
Hi, welcome to the site. This video introduces  the Thinkorswim Forum added to the site in November 2016. Using the Forum, we were able to finally add a section for Frequently Asked Questions. Just type in your search criteria and the relevant FAQ's will be displayed. If your search comes up empty, simply login to the forum and post your question there. Please watch the 26 min Introduction Video below to understand how to get the most from the Forum and navigate the site. You will quickly see how easy it is to get around the site and access the critical information you need.

Introduction Video
Ok, so now that you've watched the introduction video it's time to dig in and start learning. I really believe you will find the material on this site essential to your work on a day-to-day basis. My hope is through studying this material you will gain new skills and be able to achieve more than you ever have. All while doing it in less time and fewer resources.
Here are some great places to get started:
Please be sure to share the links on this site with your friends and colleagues so they can benefit as well.
Thanks for visiting!