Version Two: Intraday Alerts on New Highs and Lows
This is an upgraded version of our daily high/low alert for Thinkorswim. Improvements include the ability to control how many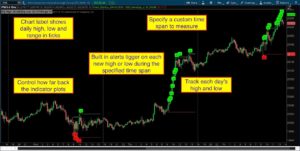 previous days in which the lines and chart bubbles will plot. I have also removed the high low lines from plotting outside the specified time span. Version two utilizes new techniques I have learned while assisting viewers with their own custom projects. Thinkorswim Alert High Low Version Two is intended to be plotted on an intraday chart.
You get to set the start time and end time and the indicator will track the highest high and lowest low throughout that time span. Each new high or new low will trigger an audible and visual alert on your chart. The time span adjustment lets you view a chart including extended hours trade while only tracking the high and low during the regular market hours.
Link to study file: Chart_DlyHiLo_24hrV2bSTUDY.ts
Be sure to view the original video to see this indicator in action and understand how the alerts work.
Lean More:
For those looking for a scan which is based on this solution you will want to examine the following post in our Q&A Forum: https://www.hahn-tech.com/ans/tos-scanner-for-new-high-intraday/
Would you like to learn how to master the chart settings on Thinkorswim? Click here for our 3 part series: Thinkorswim Chart Settings Tutorial
DISCLAIMER: I AM NOT A CERTIFIED FINANCIAL ADVISOR AND NOTHING IN THIS VIDEO OR TEXT IS AN ADVERTISEMENT OR RECOMMENDATION TO BUY OR SELL ANY FINANCIAL INSTRUMENT. NOR IS THIS VIDEO OR TEXT INTENDED TO INSTRUCT YOU ON HOW TO MAKE BUY OR SELL DECISIONS USING ANY OF THESE INDICATORS.
*Thinkorswim is a chart analysis platform offered by TD Ameritrade: www.tdameritrade.com
TD Ameritrade provides financial services including the trading of Stocks, Futures, Options and Forex.
Please be sure to share this page with your friends and colleagues. Leaving comments below is the best way to help make the content of this site even better.
Watch the video, Thinkorswim Alert High Low Version Two below: