Can we run scans on the Sierra Chart Platform?
Yes, sort of. Sierra Chart has a very advanced code language that is designed to run extremely fast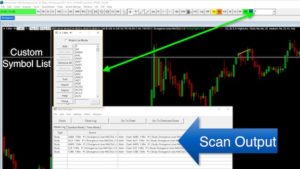 and very efficiently. But it severely lacks when it comes to running scans. In spite of it's failings, we demonstrate how to import your symbols and run a scan. In "Sierra Chart Scans Demo" we take you step-by-step through the entire process. You will learn how import your list of ticker symbols. Along the way we'll be sure to point out the technical details that can trip you up. Once the symbols are imported you're just two clicks away from starting your scan.
Customized Scan Filter Criteria
The way the scans work on Sierra Chart, you load a study onto a chart. Then you enable alerts on that study. You can also build your own alerts using their custom alert language (topic for another video). So you just load a study into a chart, make sure that alerts are enabled, then run your scan directly within that chart. Our premium indicators can be used for the scan, as demonstrated in this video.
Symbol Lists
You will need to manually import your own symbol lists. But keep them to the bare minimum. In the video we explain the issues encountered when working with large lists of symbols. Don't try importing directly from an Excel doc. I even encountered problems trying to import from a .CSV file. Noting but a bare naked text file will do. We show you how.




DISCLAIMER: I AM NOT A CERTIFIED FINANCIAL ADVISOR AND NOTHING IN THIS VIDEO OR TEXT IS AN ADVERTISEMENT OR RECOMMENDATION TO BUY OR SELL ANY FINANCIAL INSTRUMENT. NOR IS THIS VIDEO OR TEXT INTENDED TO INSTRUCT YOU ON HOW TO MAKE BUY OR SELL DECISIONS USING ANY OF THESE INDICATORS.
Sierra Chart is a chart analysis and trading platform which connects to a wide variety of data providers and brokers. https://www.sierrachart.com/

Please be sure to share this page with your friends and colleagues. Leaving comments below is the best way to help make the content of this site even better.
Watch the video, Sierra Chart Scans Demo below: