Free and Open Source Indicator Based on Keltner Channel and Bollinger Bands
Prompted by a request from one of our viewers. This video, "TS Keltner Bollinger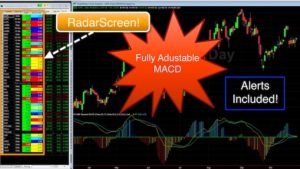 Band Squeeze MACD", includes a free customized version of the MACD indicator. This can be applied to charts as well as Watchlist in TS. Color coded columns in Watchlist display the status of the trend direction as well as the Keltner Bollinger Band (KBB) Squeeze. This code is based on public domain, open source indicators.
What is a KBB Squeeze?
When the Bollinger Bands narrow to the point they can 'squeeze' inside the bands of the Keltner channel, that stock is in a KBB Squeeze. When price moves out of consolidation zone, the Bollinger Bands expand outside the Keltner Channel, that stock has now fired from the squeeze.
Alerts included
Each alert can be turned on or off from the user inputs. Alerts include the KBB Squeeze (first green dot on centerline), histogram crossing zero line, and histogram changing trend direction. The indicator can trigger alerts on both the chart as well as the RadarScreen. Check the video for details.
 
Not the TTM Squeeze
This is NOT the TTM Squeeze. However you will find this indicator performs a similar function to that described in these two Thinkorswim videos:
Thinkorswim Watchlist TTM Squeeze (displays the histogram colors in a watchlist)
Thinkorswim TTM Squeeze Watchlist (displays the squeeze dots in a watchlist)
Version History:
Version 1.0.0 – original public release
Version 1.1.0 – corrects for "divide by zero" error introduced by TS platform update
If you are not sure you are using the most current version, you can download a fresh copy at the GitHub link below.
Where to get it:
On GitHub: https://github.com/ht-tradestation/kbb-sqz-macd
Git-what? Don't worry, just watch the video installation instructions and everything will fall right into place.
How to install:
Follow the instructions in the video
DISCLAIMER: I AM NOT A CERTIFIED FINANCIAL ADVISOR AND NOTHING IN THIS VIDEO OR TEXT IS AN ADVERTISEMENT OR RECOMMENDATION TO BUY OR SELL ANY FINANCIAL INSTRUMENT. NOR IS THIS VIDEO OR TEXT INTENDED TO INSTRUCT YOU ON HOW TO MAKE BUY OR SELL DECISIONS USING ANY OF THESE INDICATORS.
Watch the video, TS Keltner Bollinger Band Squeeze MACD below: