Daily Average True Range and Other Key Levels Plotted on Intraday Chart
This indicator has been in the works many years. Long before I decided to begin serving the trading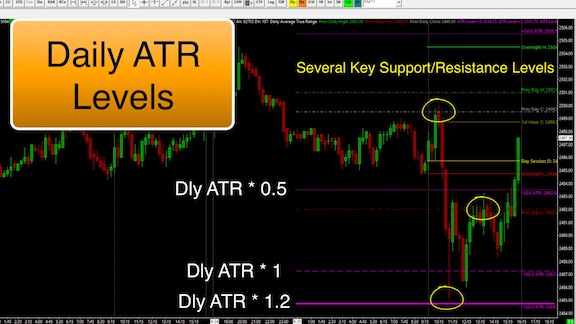 community by publishing free and modestly priced premium indicators. It goes back to a time when I met Larry and Nicky. They were trading partners and they graciously welcomed me into their circle. The ATR Levels indicator was one of the very first items they had me create. At that time I was only writing for Thinkorswim. We quickly learned that Thinkorswim lacked the one crucial piece of data required to make this indicator work. But now we can make it happen, Sierra Chart Daily ATR Levels Indicator.
Time Passes
So here we are, 10 years later and I have finally gotten around to learning the SierraChart language. We have everything we need to put this indicator together. We can plot lines on any intraday chart, using data from the daily time frame. Most importantly of all, that daily time frame provides the daily settlement price for Futures contracts. The one thing that Thinkorswim still lacks to this day.
Key Levels for Professional Traders
In this one indicator we provide several of the key levels that are important to intraday traders. The historical record proves these levels provide strong price reactions when they are in play. Lacking this indicator, many professional traders are forced to manually draw these lines on their charts before the start of each trading day. This limited their application, as it took time to look up and compute each level, then draw them on a chart. This indicator makes it possible to thumb through dozens of charts, each having these key levels conveniently plotted by the code.
Installation, Settings, Historical Data, Alerts….
In this video we demonstrate how to install onto SierraChart platform and add the indicator to your chart. We explain each settings and show how to adjust them in detail. We even dedicated a section of the video to review historical data. So you can a clear view of how prices react to these levels across a wide range of instruments. Oh and don't forget about alerts. No indicator of this type with be complete unless it included alerts. Using Bar Replay, we show you how to adjust the alert settings and how they are triggered.
But Wait, There's More….
There is a Pro version available too! The Pro version contains all the key levels from the standard version, but also includes 4 other key levels used by professional traders. We also have a version of this indicator for: TradeStation Daily ATR Levels Indicator
List of Topics: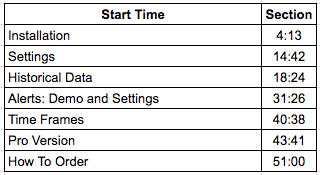 Please be sure to view the demo video before placing your order. The demo video constitutes the entire instruction manual for installing, and setting up the indicator on your platform.
DISCLAIMER: I AM NOT A CERTIFIED FINANCIAL ADVISOR AND NOTHING IN THIS VIDEO OR TEXT IS AN ADVERTISEMENT OR RECOMMENDATION TO BUY OR SELL ANY FINANCIAL INSTRUMENT. NOR IS THIS VIDEO OR TEXT INTENDED TO INSTRUCT YOU ON HOW TO MAKE BUY OR SELL DECISIONS USING ANY OF THESE INDICATORS.
Sierra Chart is a chart analysis and trading platform which connects to a wide variety of data providers and brokers. https://www.sierrachart.com/

Please be sure to share this page with your friends and colleagues. Leaving comments below is the best way to help make the content of this site even better.
Watch the video, Sierra Chart Daily ATR Levels Indicator below: