Build Custom Watchlist Columns Using Thinkorswim Condition Wizard
Build your own customized color-coded watchlists in Thinkorswim using the Condition Wizard. Color the background and values in your watchlist based on your favorite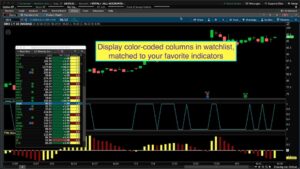 chart studies. Review hundreds of stocks at a glance. After mastering Thinkorswim Condition Wizard Watchlist, no more thumbing through endless charts to find your "needle in the haystack".
The Condition Wizard in Thinkorswim does all the hard work for you. Just a few clicks of the mouse and the Thinkorswim Condition Wizard creates your code for you.
Learn how to write a very small amount of code to dynamically set the colors of the background and text in your custom watchlist columns. I walk you through it step-by-step. Several examples included. By the end of the video your mind will be exploding with new ideas on how to apply these techniques.
Examples included in this video:
Stochastic FullK above FullD
Price above or below VWAP
RSI overbought or oversold
TTM Wave
Mystery Bonus!
Want to learn more?
View videos from the Thinkorswim Watchlist category to learn more advanced methods of customizing the watchlist. Download free code with each of our free tutorial videos. See how easy it is to add custom columns for multiple time frames. Drastically reduce the amount of time spent searching for that perfect setup. Be sure to visit this link to the thinkorswim Watchlist category on the Hahn-Tech website: TOS Watchlists
*Thinkorswim is a chart analysis platform offered by TD Ameritrade: www.tdameritrade.com
TD Ameritrade provides financial services including the trading of Stocks, Futures, Options and Forex.
Please be sure to share this page with your friends and colleagues. Leaving comments below is the best way to help make the content of this site even better.
Watch the video, Thinkorswim Condition Wizard Watchlist below: