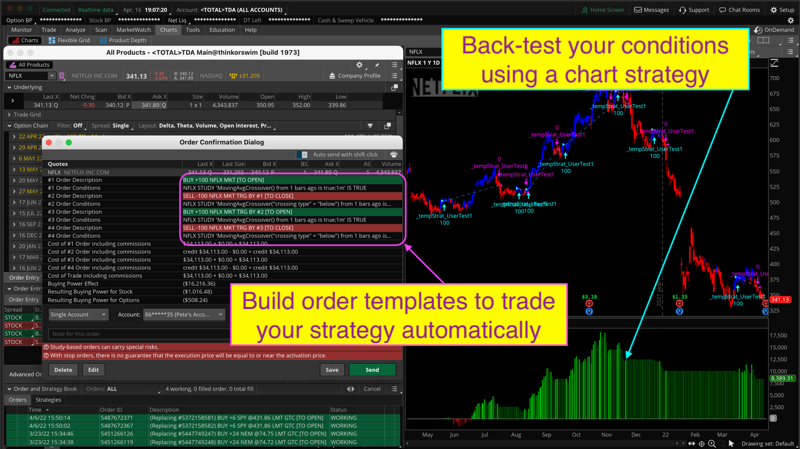 Would you like to automate your trade entries and exits on Thinkorswim? How about having those orders executed based on conditions from your favorite chart studies? Learn how to build conditional orders which cover both the trade entry and trade exit. After viewing "Thinkorswim Automated Round Trip Trades" you will be able to build orders using the "1st triggers All"order type and have your trades execute based on study conditions you specify.
Taking It To The Next Level
After laying the groundwork, this video then shows you how to string together a series of round trip trades using the "1st triggers sequence" order type. You will also learn how to save these order groups as a saved order template which you can reuse over and over again. This is a very complex topic so I have prepared a list of prerequisite videos which need to view first. The following videos fully prepare you to make use of the new methods and techniques demonstrated in "Thinkorswim Automated Round Trip Trades".
Mastering The Process
"Thinkorswim Automated Round Trip Trades" shows you how to put all the pieces together. Once you have mastered these skills you will be fully prepared to build your own study conditions for fully automated round trip trades. While at the same learning how to convert those conditions to function as a chart strategy. Which allows you to view the P/L curve and optimize your conditions. Enabling you to find profitable trading opportunities which fit your own risk tolerance.
We also discuss some advanced topics such as:
Custom scripts for order conditions
"Trading Bots" (TD Ameritrade's API)
Server Side automated trading versus Client Side
DISCLAIMER: I AM NOT A CERTIFIED FINANCIAL ADVISOR AND NOTHING IN THIS VIDEO OR TEXT IS AN ADVERTISEMENT OR RECOMMENDATION TO BUY OR SELL ANY FINANCIAL INSTRUMENT. NOR IS THIS VIDEO OR TEXT INTENDED TO INSTRUCT YOU ON HOW TO MAKE BUY OR SELL DECISIONS USING ANY OF THESE INDICATORS.
*Thinkorswim is a chart analysis platform offered by TD Ameritrade: www.tdameritrade.com
TD Ameritrade provides financial services including the trading of Stocks, Futures, Options and Forex.
Watch the video, Thinkorswim Automated Round Trip Trades: