Plots Divergence Lines Right on the Chart
Dynamically plots trendlines and labels on the chart showing places where positive and negative divergence are present. A custom scan and chart based alerts are included. Able to plot swing high and lows. Also includes a color legend to easily identify one type of divergence from another. Along with the new indicator we have published a video titled "TradeStation Divergence Lines Indicator". In this video we show how to adjust the settings and run the scan. Included in the video is a live chart demo showing how the chart based alerts function in real time. At the request of viewers, we have also added a companion study, available separately. The companion study measures hidden divergence.
We realize there are many techniques employed for reading divergence. We tried to be as accommodating as possible using a variety of features in the TradeStation platform. I'm sure you will be very excited to see the many ways these indicators can be customized to fit your needs.
---
TradeStation Version Support: Developed and Tested on Version 9.5 (Update 17)
Previous versions may be supported but have not been tested.
---
IMPORTANT NOTICE ABOUT SUBSCRIPTION REQUIREMENTS
In order to make full use of all the features demonstrated in this video you need to check your current subscription status. There are fees associated with RadarScreen and Real Time Data. See the screenshot below showing the required minimum subscriptions levels.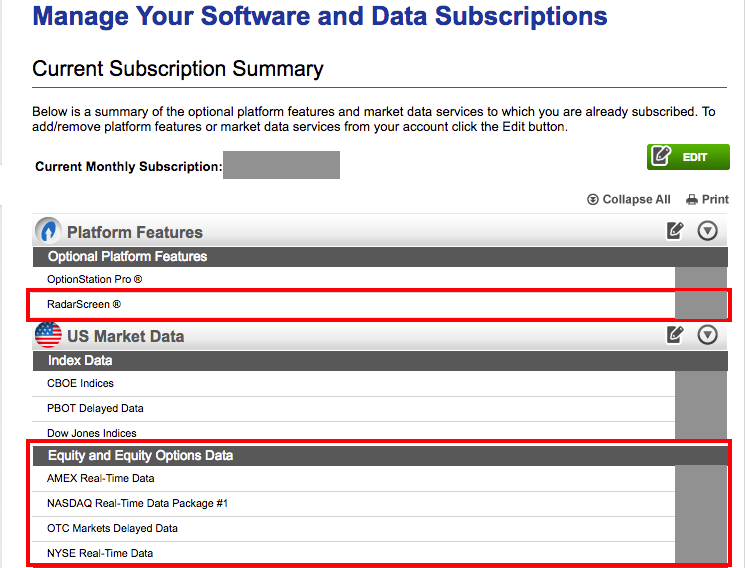 ---
Need more information?
Within the video we provide the link showing how and where to place your order.
For your convenience, here is an index table showing how to navigate the video to get to the section(s) you want to view.
---
DISCLAIMER: I AM NOT A CERTIFIED FINANCIAL ADVISOR AND NOTHING IN THIS VIDEO OR TEXT IS AN ADVERTISEMENT OR RECOMMENDATION TO BUY OR SELL ANY FINANCIAL INSTRUMENT. NOR IS THIS VIDEO OR TEXT INTENDED TO INSTRUCT YOU ON HOW TO MAKE BUY OR SELL DECISIONS USING ANY OF THESE INDICATORS.
TradeStation is a chart analysis and trading platform offered by TradeStation Group Inc. http://www.tradestation.com/
Please be sure to share this page with your friends and colleagues. Leaving comments below is the best way to help make the content of this site even better.
Watch the video, TradeStation Divergence Lines Indicator below: