Prior Period POC/VAH/VAL Projected into Current Period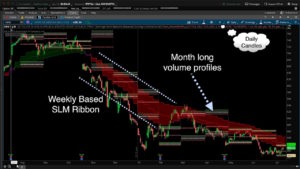 This is an upgraded version of the very popular Volume Profile study. This version includes a momentum study from a higher time frame that can be used to filter long and short signals. This indicator projects the volume profile area into the current trading period. Fully adjustable to fit whatever time frame you are trading. Trigger zones are included, which are fully adjustable. Setups occurring within the shaded trigger zones are accompanied by visual and audible alerts.
Indicator Type: Support and Resistance
Indicator Basis: Volume-At-Price AKA: Market Profile
Time Frames: All time based aggregation periods
Trade Setups:

Scalping
Reversals
Fading key levels
UPDATE: 7/13/16 Version Two Released
Just click on this link and fill out the contact form at the bottom of the page. We will coordinate payment and delivery of the final code.
Thinkorswim Premium Trading Tools
Watch the video, Thinkorswim Volume Profile Study below:
DISCLAIMER: I AM NOT A CERTIFIED FINANCIAL ADVISOR AND NOTHING IN THIS VIDEO OR TEXT IS AN ADVERTISEMENT OR RECOMMENDATION TO BUY OR SELL ANY FINANCIAL INSTRUMENT. NOR IS THIS VIDEO OR TEXT INTENDED TO INSTRUCT YOU ON HOW TO MAKE BUY OR SELL DECISIONS USING ANY OF THESE INDICATORS.
*Thinkorswim is a chart analysis platform offered by TD Ameritrade: www.tdameritrade.com
TD Ameritrade provides financial services including the trading of Stocks, Futures, Options and Forex.
Please be sure to share this page with your friends and colleagues. Leaving comments below is the best way to help make the content of this site even better.